The other month we had some fun with a "painting" sensory activity. We were sitting there one afternoon and I realised that we had some old cardboard, large pieces of packing paper and some yoghurt in the fridge. So we made it into a fun game.
I'm calling it "paint" because we used the yoghurt like paint. It's also safe and edible for baby (although, of course check ingredients and make your own decision as to whether the product is safe for your child). To replicate this you can use:
Yoghurt as the "paint". If you want to make colours I suppose you could add natural colouring by mixing in crushed up fruits (e.g. raspberries, blueberries), or food colouring if you don't mind baby tasting it.

A large piece of cardboard or something to protect the floor like a plastic sheet or old sheet. It also makes it easy to clean up because you can just wipe it off after

Paper to "paint" on. We used old packaging paper
The Little Lovely really enjoyed this. It was something novel for him. He liked smearing the yoghurt and feeling the sensation of it. He tried a little taste as well but looked like it was a bit sour for him! (natural yoghurt). Afterwards he was quite messy, but fortunately the overall had taken some of the yoghurt. Here's some more pictures of what we did:
Yoghurt is presented to LL. He gets stuck in and has a feel. I needed to put a bit of paint on the paper and swish it about a bit to start him off and model what to do. Then, he was able to start "painting" by himself.
What does the paint feel like? LL decided it was quite fun (middle picture), and continued to swish it about the paper. This became more of a sensory/fun/swishing game rather than a fine art project!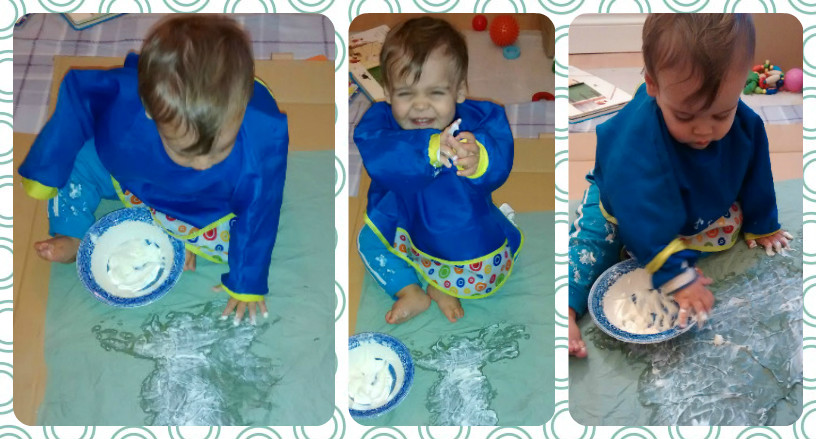 We ran out of yoghurt so I got another load in a plastic container this time. LL wanted to taste it. Looks like it was a bit sour. He got progressively messier!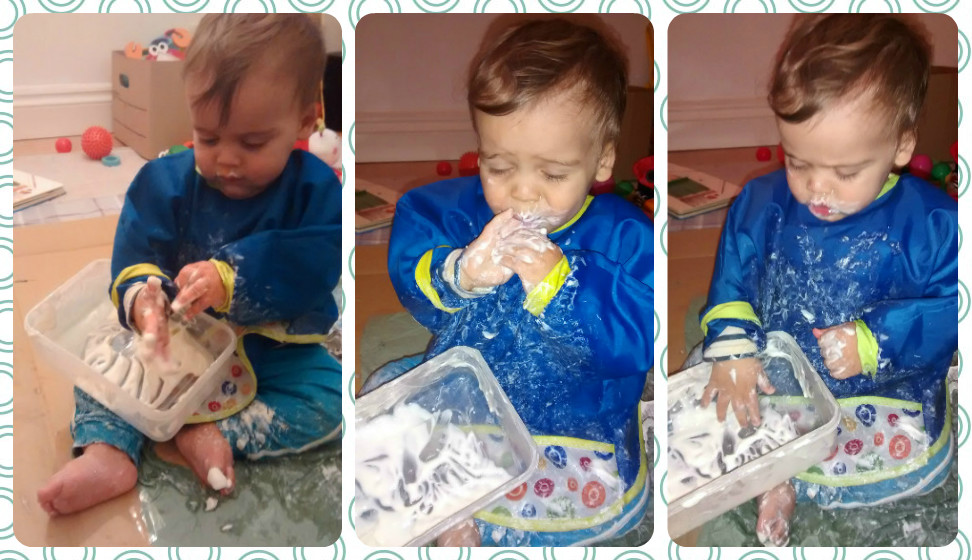 Safety first:

be mindful of any allergies (e.g. to fruits, colours, yoghurts, cow's milk, etc, and be mindful of baby's age and if they can have cow's milk should they decide to taste the yoghurt).