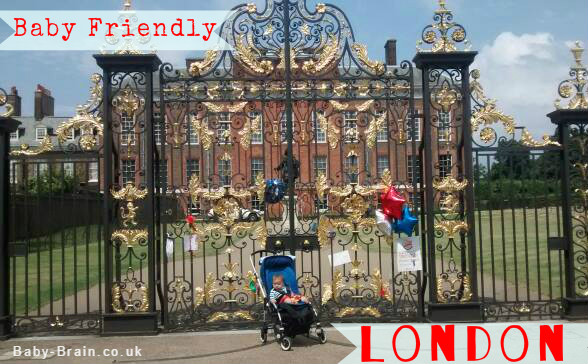 Baby Friendly London, and tourist adventures! This is also relevant to the wellbeing and mental health page where I discuss various activity ideas for fun times but also to reduce cabin fever and increase mood. Be a tourist in your own town, or actually go somewhere and be a tourist, with or without baby.
Anyway – here's some things the Little Lovely got up as a Tourist, Baby.
Kensington Palace, London, England, UK –
Website here
Age when visited: 7 months, 1 week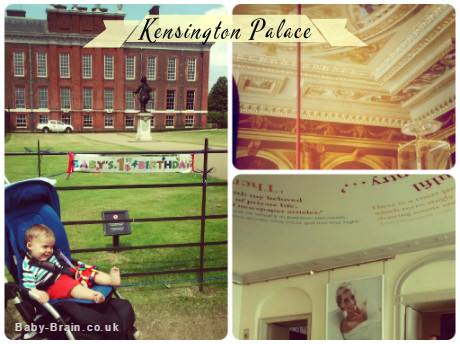 What is there to do?
Well, in honour of Price George of Cambridge's first birthday (2014) we went to the Palace (Kate and Wills have an apartment here)! Well actually, it wasn't in honour of his birthday, we were just going anyway but when we got there we saw some birthday banners and balloons up for him, as you can see in the pictures above of the Little Lovely outside the Palace gates.
Princess Diana's Dresses: 

Look back at fashion as worn by HM The Queen, Princess Margaret and Diana, Princess of Wales.

Queen Victoria:

 Learn about her life and see what kind of toys they had in the nursery! We played with some of them (not the originals, I assume – see picture). I got told off for sitting on the carpet with no shoes on, though. So keep your shoes on. I'll assume the baby was fine to go shoeless.

Other: 

Explore the gardens and Orangery – Works of art – the Queen's State Apartments and King's State Apartments. There is also a shop.
The pictures below are of the main entrance room, with LL posing under a picture of Princess Diana, then in the royal nursery playing with some toys, in another room in the palace, and then spark out and tired at the end of a busy day as a tourist, baby.

Eating:
There is a cafe in the Orangery and Palace. I went to the Palace cafe and there are highchairs and kid's meals available, such as children's sandwich bags. If you want to bring your own food or do a picnic in the park the nearest shops are a bit of a walk away, and the cafe has tourist cafe prices, so stop off at the shops on the way if you prefer this cheaper option!
Baby and Toddler facilities:
There are changing facilities available. I don't think there were any specific feeding or breastfeeding areas but a friend and I fed in the entrance area on some comfy seats and no one cared.
Accessibility for prams and those less able to use stairs:
There are lifts to most areas. Staff were very helpful and led me through a step-free route to view the fashion and Princess Diana's dresses with my pram. I don't know if this was a temporary arrangement or if this route is usually accessible without staff assistance. But either way, the staff were helpful and you could always ask if unsure. The website also writes that:
There is level access from Kensington Gardens to the palace, a lift to all floors and wheelchairs and portable seating to borrow during your visit. We also offer Describer Tours for blind and partially sighted visitors as well as facilitating British Sign Language tours.
In all, a reasonably baby friendly day out, and there's the gardens/park to explore as well!