If you want to try this at home be more careful than me!
See this page under Let's Make Stuff for full details and pictures of the Little Lovely playing a new sensory game/experience!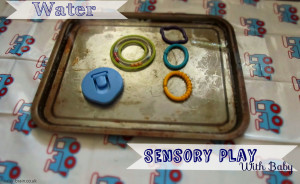 What am I talking about? Well I tried to emulate a baby water play idea (see the original idea here) which looked like a great way to introduce the Little Lovely (LL) to some sensory play of a different nature as we have never used water during play other than at bath time. I didn't read the instructions properly and I think this activity is for babies who are not sitting yet, or at least is to be done in a non-sitting position.
Anyway, I set up a baking tray with some toys including linky loops, a sippy cup top and rattle (basically things that would glide about on the water), added water and put a plastic sheet under the tray so as not to spill water everywhere.
I sat LL down in front of it and IMMEDIATELY… WOOSH… the first thing he did was grab the bottom of the tray and tipped it up. The water all spilled out right across the plastic and on to the rug. Oh well, it's only water. I had a camera to hand because I was taking pictures to update the blog and the Let's make stuff page, but instead of delightful sensory water play cutesy splashing etc from LL, I got one of him tipping up the tray and spilling water everywhere. Oh well, it was fun. I laughed. I don't think he knew why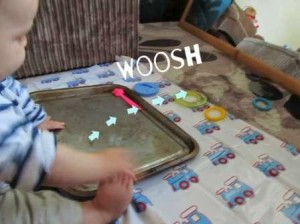 Thank you for reading: Baby Water Sensory Play: baby-brain.co.uk, psychology resource, perspective & blog