Share:

19

417


0
Quick reference guide on Treasure Baskets: the what, why and how
– oh and with some more pictures of what me and the Little Lovely have been trying out too! Here's 10 ideas on contents and themes
 ◊◊◊◊◊◊◊◊◊◊◊◊◊◊◊◊◊◊◊◊◊◊◊◊◊◊◊◊◊◊◊
The What:
What are treasure baskets? A collection of objects, presented in a basket/container, for infants who are old enough to sit up but not old or mobile enough to get about and explore. Hence – you bring the world to them and let them explore and experience various sensory aspects (touch, sound, sight, taste, smell) through exploring the items in the basket and discovery – alongside developing hand-eye coordination skills.
◊◊◊◊◊◊◊◊◊◊◊◊◊◊◊◊◊◊◊◊◊◊◊◊◊◊◊◊◊◊◊
The How:
Collect a range of items from around the room or house, that are baby safe, mouthable and excite the senses.
The parent/caregiver role is also important. After presenting the Treasure Basket to baby, sit close by, be attentive and available to the child if needed but do not direct the exploration or play; let baby explore at their own pace and make the decisions without giving in to the temptation to go through the basket yourself and show baby each item or demonstrate how to use them.
Resist the urge to impose your own ideas;
⇒ Treasure baskets should be child-led and….

They offer very young children an opportunity to actually make decisions about what to play with and how  (an opportunity which they don't usually get)
For my reflections on how difficult it was to resist, but how I experienced an interesting outcome, see "a personal case study" in the full treasure basket post here
Contents and theme ideas: 
Some themes we have tried
Treasure Chest:
Made out of a shoe box! (full picture above) – just be mindful of the corner edges, these aren't soft and round like the baskets. I filled one with balls and LL enjoyed opening and shutting the lid
Kitchen set:
Baskets of Round and Circle shapes, and a basket of Assorted Shapes (in wood)
LL loves taking all of these shapes out of the basket, throwing, waving and bashing them around (9.5 months)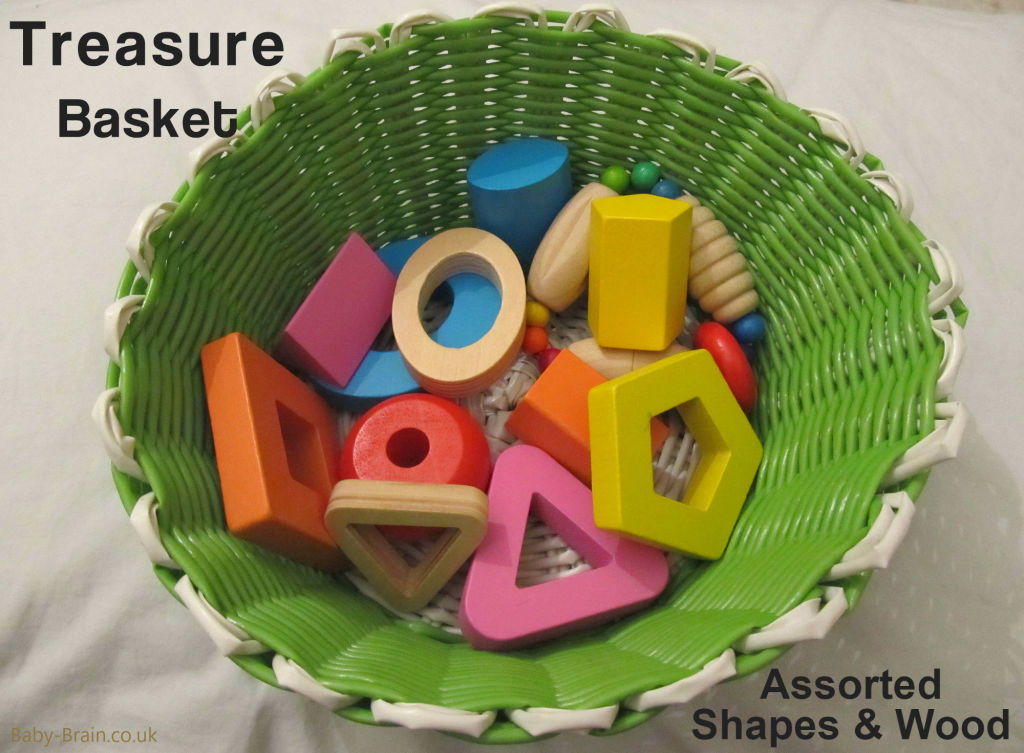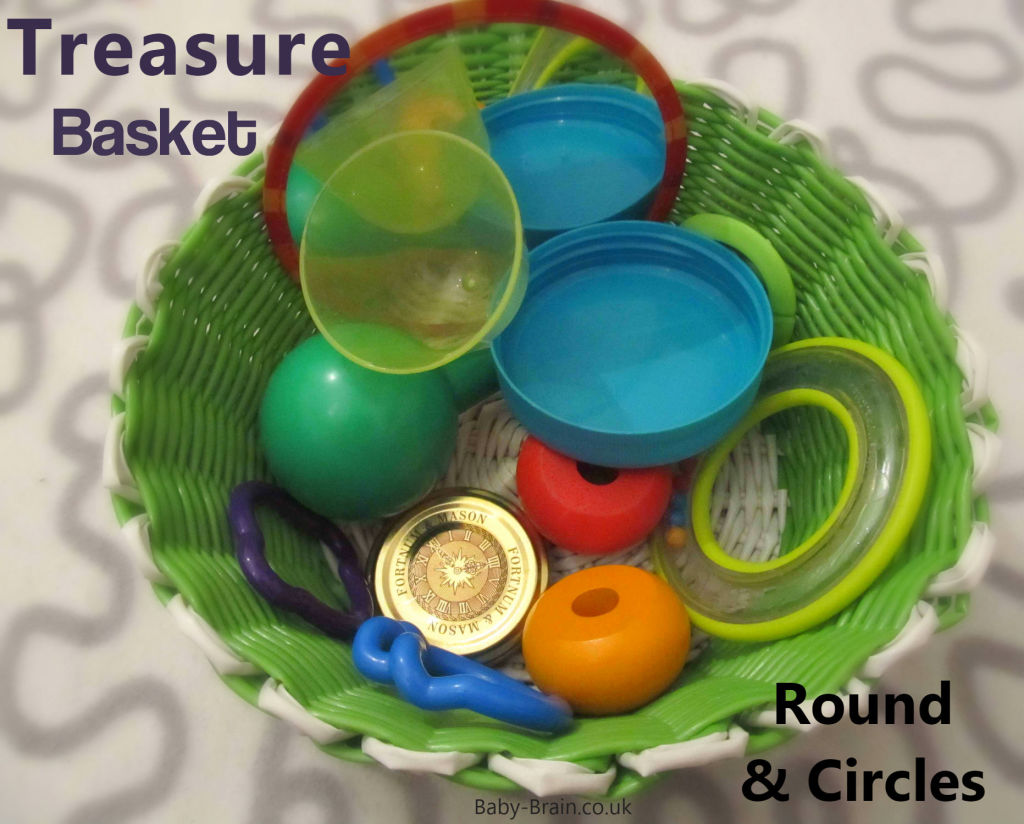 Treasure Tin: Mixed Circles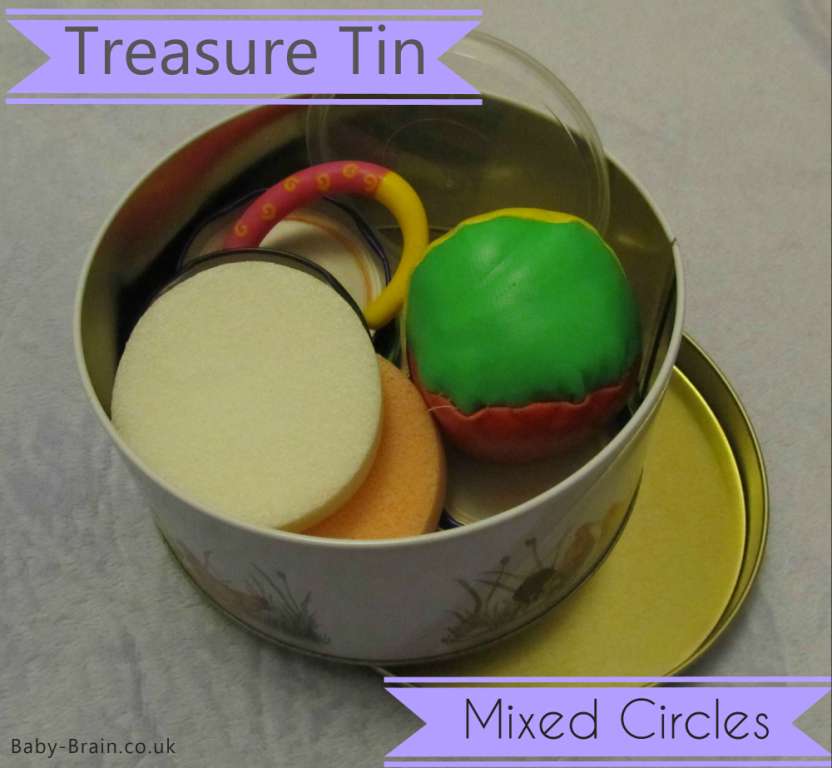 Treasure Tin of mixed colour fabrics
Treasure Bucket of different textured fabrics
Silky ribbon, thick fishnet, netting type material, cotton, and so on. LL enjoyed feeling all the various textures, the depth of the bucket (sticking his hand right in the the bottom and pulling the fabrics out), and the clatter of the tin and tin lid when the fabrics were presented in this.


Wooden – or try grouping other materials, like metal
Colours
A basket of mixed green items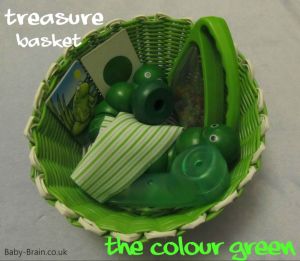 Noisy treasure basket- musical treasure box 
A little box of noisy toys, including a shaker, rattle, tambourine, cage bell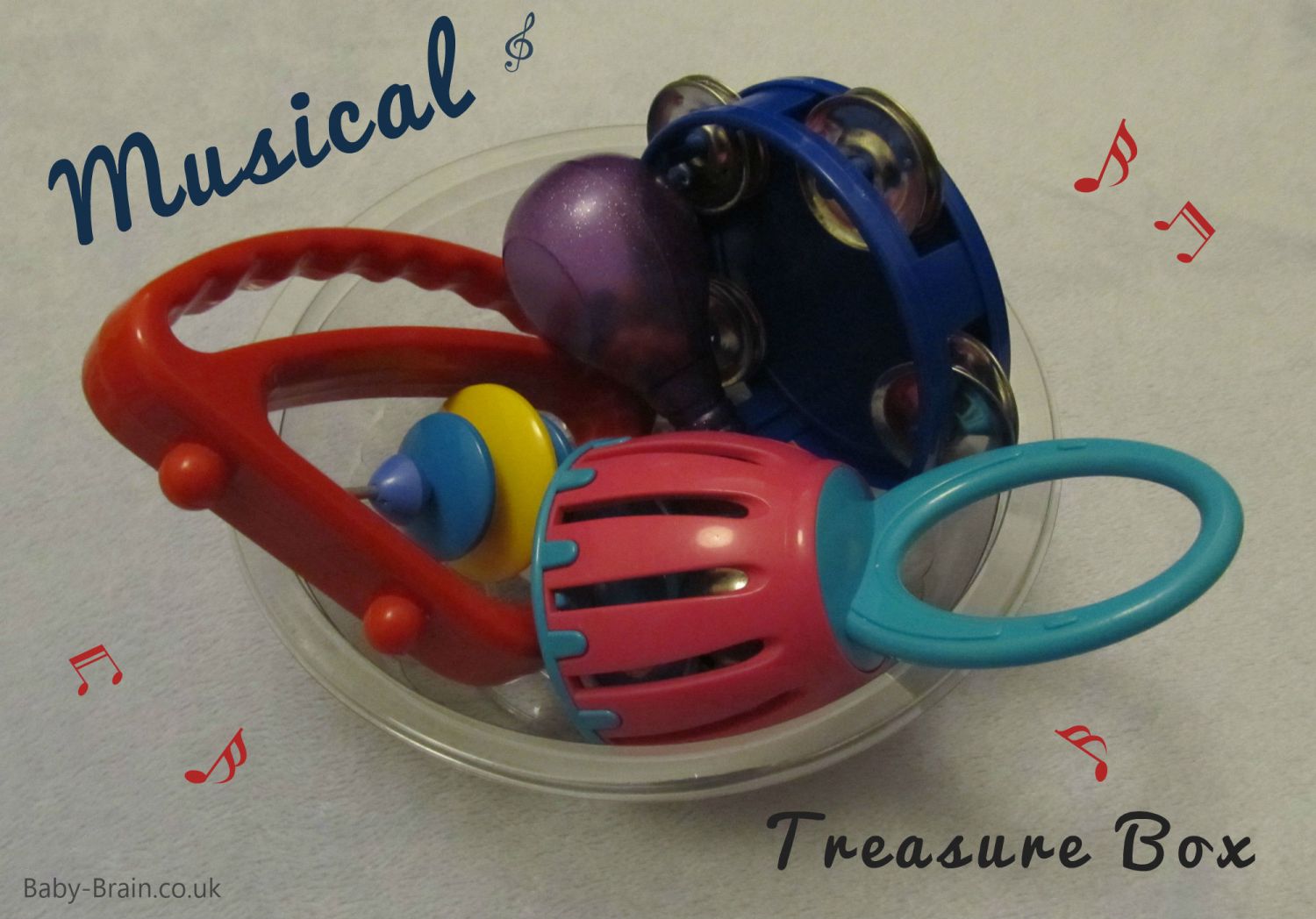 In general – we have used different materials and ways to present the Treasure Basket contents, including
tins

baskets

shoe boxes

trays (e.g. baking tray)

buckets
LL has enjoyed the noises he can make with different materials, like the sound the tin box makes when banging the lid against the box, and the kitchen implements against the metal baking tray. He experimented with reaching into the bottom of the bucket and pulling fabric pieces out.
◊◊◊◊◊◊◊◊◊◊◊◊◊◊◊◊◊◊◊◊◊◊◊◊◊◊◊◊◊◊◊
The Why:
For development (senses, physical, emotional, and more), for exploring, for play, for fun….
Heuristic Play:
This is about discovery play–  used to described the activity of toddlers when they play with objects, how they experiment with objects and the environment. It's called "experimental" because the child is interested in discovering what they can do with the objects. Treasure baskets are relevant here because they allow baby the opportunity to handle and mouth objects (sensory motor skills) so that they can find out more about them, and they offer new sensory experiences that allow the brain to grow and become more active (2). The term Heuristic Play is more relevant to children of toddler age, and Treasure Baskets to babies.
References
Gascoyne, S. (2012). Treasure Baskets & Beyond: Realizing the Potential of Sensory-rich Play. McGraw-Hill. (access the introductory chapter to this book here, and read a more about sensory, heuristic play and Treasure Baskets)

Hughes, A. M. (2010). Developing Play for the Under 3s: The Treasure Basket and Heuristic Play. Routledge
Other references influencing this post:
Goldschmied, E. & Jackson, S. (1994) People under Three. Young Children in Day Care. Routledge 

(see chapter 6 – The Treasure Basket

)