Good news everybody! Baby Brain received a blog award, and not only that, it's a nod from another parent blogger! Thanks so much to BrandNewMom for the acknowledgement and nomination. To quote the Brand New Mom,
Blogging is about building a community and it's a great way to acknowledge and recognize newer bloggers/blogs.
So thank you for the recognition. Now, what comes with this award is apparently some questions I have to answer, and some steps (see picture).  So here goes for the questions: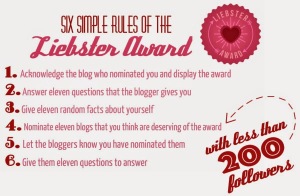 1. How was your day?
It started at 6am, which is when my one year old child wakes up. I wish he'd wake up later but he's pretty predictable and almost like he has an alarm clock in his head. We get up and play then he get's tired about 1 hour later, or in this case it was about 2 hours later. We had a nap together for about 1 hour but I was more drifting in and out rather than sleeping soundly. Then, because it's the weekend we went out all as a family and had some lunch, did some shopping, then came home for a play and to watch some Adventure Time. Dinner for LL, bath and then bed.
2. What is your favorite thing about blogging? 
Reading and researching the literature about child development and then writing it up. Also, trying out fun activities that i've either made up or seen on another blog, Pinterest or Facebook somewhere, and then logging LL's responses to it. It will serve as my own log and online bank of a moment in time with my 1st baby that I can access, complete with pictures.
3. What is your least favorite thing about blogging?
It seems to take me a lot of time, even to get the pictures ready, which might not seem true because my pictures are kind of average, normal ones, not fancy high definition or anything. I enjoy searching the literature and resources, but again, takes time and after a heavy day of psychology at work or looking after LL, I don't always fancy doing more psychology/baby related stuff and just want to watch TV or something.
4. What keeps you motivated?
Learning opportunities, and opportunities to reflect on my experiences from the day
5. Describe your personal paradise.
Sleeping
6. If you could be any animal, what would it be and why? 
Maybe a cat, because they get to sleep a lot
7. What is your dream job?
To be a clinical psychologist (or run a cutesy tea and cake shop with an interior shaped like an enchanted forest, with squirrels and trees and teapots)
8. What's your favourite thing about you? 
Not telling
9. If you could have any super power, what would it be and why? 
To be invisible. No, to fly. No, invisability (not permanent as in The Invisible Man, H. G. Wells style, though, but to be able to turn it off and on).
10. Are you getting tired of these questions yet?
Yes. Can I go have my dinner now?
11.  Share one thing that makes you obnoxiously happy.  
Food. Tasty food
11 random facts: → I can't think of 11. So here's one, I like cats. Thanks
Nominate other blogs: I'll do some research and get back to you… I have a couple in mind that I think are quite interesting